Donations
What impact can you make?
In Nigeria, as with any other genuine outreach, there are great opportunities for your dollars to make a noticeable and significant impact on the lives of your suffering and needy fellow Christians. For a monthly gift of only $100 per month, you can support an Evangelist. For a $900 donation you can purchase a motorcycle for an Evangelist. For only $6500 you can ensure that a congregation of your brethren in Nigeria has a roof on their church building. If you cannot fund an entire roof or support an Evangelist yourself, your gift will be combined with other gifts to make that blessing a reality! For more information on the financial needs of our Nigerian brethren visit the 'About' section at the top of this page.
Ready to Donate?
To donate, please see below for your options:
To donate by check please make checks out to 'Church of Christ Nigeria' and mail to the address below:
Church of Christ Nigeria
PO Box 8792
The Woodlands, TX 77387
To donate via Venmo, please submit payments to @ChurchofChrist-Nigeria or scan the QR code below:

To make an online donation through Paypal or credit/debit card please click the 'Donate' button below. You can make a one time donation or set up monthly payments by clicking the 'Make this a monthly donation' box on the following form.
NOTE: All online donations incur a 2.9%+$0.30 processing fee which will be deducted from your donation. (i.e. for a $50 donation a fee of 2.9%+$0.30 will reduce the donation amount to $48.25). To ensure that 100% of your donation goes towards the work in Nigeria please consider the check or Venmo options above.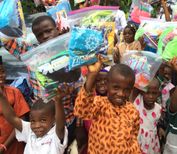 We appreciate your generosity and know our Nigerian brethren are exceedingly grateful as well. God Bless!
Tax Deductions
Don't forget that your donation to the work of the Kingdom in Nigeria is tax deductible. If you need verification and our E.I.N. for tax reporting purposes, we would be glad to provide that to you. Just let us know with your donation. To contact us click 'Contact' at the top of this page.
Questions/Concerns?
Have questions about donating or wish to cancel a recurring payment? Feel free to contact us by clicking 'Contact' above.